Lobotex' new exhibition INSOLITO opened in May 2022 at A7MA Gallery in Sao Paulo, where the artist redirects us to what is unusual and abnormal through his paintings and sculptures.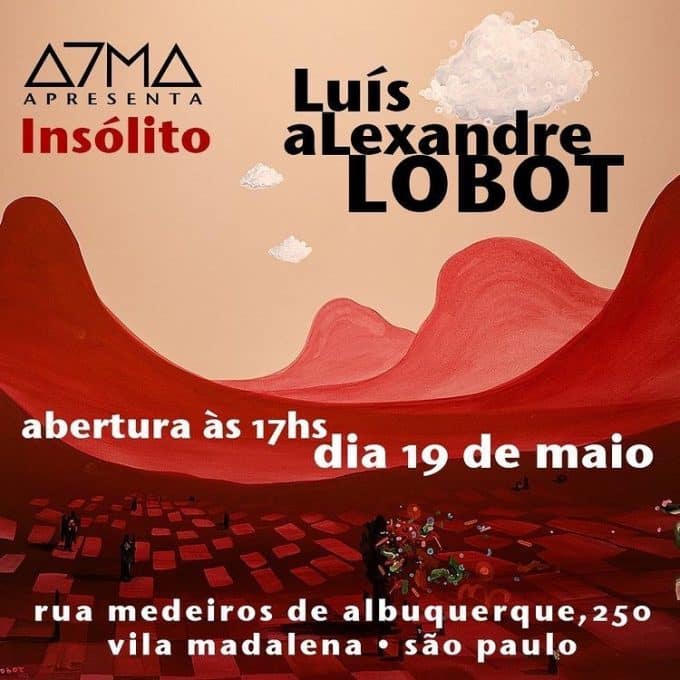 Luís Alexandre Lobot's new exhibition redirects us to that which is unusual. When we see a monolith on the horizon or a wooden bench taken from its usual use, we are facing something in a state of disuse. When things jump out of their everyday function, they become mysterious again, operating outside the conventional rules.
It is in this aspect that we are pleased to see the results of the new Lobotian experiences in painting and sculpture, where his poetics, based around the reveries and ludic objects, was deepened.
The nomadic landscapes of his canvases continue to undo the hierarchies of perception in a mystical strategy to bypass our spirit. This game requires a certain ludic maturity, for it takes us back to incipient times when a wooden stump could be anything. In other words, we verify if we still know how to daydream.
His private oratory is a kind of heresy, because only those with artistic maturity, worthly of a child of a Bishop of the Rosary, can generate something of his own substance and worship it. This shared defiance makes us lose our common senses and review our concepts of religious tradition.
That art with humour is more pleasing, we already know, but to invent something adorable goes beyond irony. The art here inverts perspectives and makes us stop seeing with the eyes of ideology, religion, family, and others. It suggests us that it is possible to strongly grasp what is ours and that we can be the starting point of things.
Lobotex performs his good old maneuver of providing contemplative states. Contemplation, nowadays, is something very difficult, but here there is an insistence in reminding us that poetry is visible and invisible, and that children play with it on the streets, while the ignorant people step on it every day.
His horses, priviously maquettes in glass cases, have gained a larger exhibition scale. Venturing into three dimensionalities, incorporating the space artist, Lobotex produced sculptures made of hardwood with tools that can bite off a finger, intending to enlarge them in the future towards the magnitude of public parks.
We are left here satisfied with this process, wondering what the size has to do with life. We feel, in INSOLITO, that once again some insignias of artistic intensity are transmitted to us, for as Rubens Espirito Santo says, the greatness of art comes from the incessant practice of making something – object, movement or speech – that takes us out of bed to start the day, that makes us turn off the fucking Netflix to do something worthwile with our live.
Text by Bruno Pastore, Guarulhos, May 2022